DISPLAY FABRICATION
C-Design will professionally install artwork/objects, from a small single piece to an entire collection or exhibition. We can also handle and install your fine antiques/furnishings. We handle every aspect of indoor and outdoor installations involving any scale and logistic. We have experience in all settings such as museums, galleries, corporate buildings, permanent and temporary exhibitions, and private residences.
We also offer complete design and fabrication of Micro-climate vitrines, custom exhibition cases, pedestals and any display fabrication need that the client may have.
OBJECT MOUNTS
We custom fabricate all types of special mounts, clips, etc. for books, drawings, objects, artifacts, and sculpture. All mounts, mounting methods and materials meet or exceed International preservation specifications and standards.
Case Study: Coming Soon.
see also Our Clients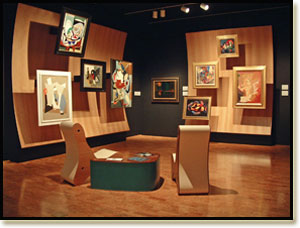 "Kiesler" Installation
Norton Museum West Palm Beach, Florida